Facilities Available
Test Tube Baby:
The hospital has a well trained and experienced team headed by infertility specialists Dr. Mrs. Inderjeet Kaur Saini & Dr. Harkanwaljit Singh. It has state of the art equipment, most of it imported, for carrying out this objective. Many successful embryos have been produced. The doctors took their training in IVF from the world famous IVF centre, Apollo Hospital, Chennai. Intra-uterine insemination is also undertaken after proper semen wash and preparation. Hospital has well established clinical lab for infertile couples. An advanced colour and 3 dimensional ultrasound machine from Japan is available.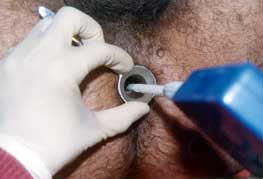 Picture: Cryo Destruction of Piles.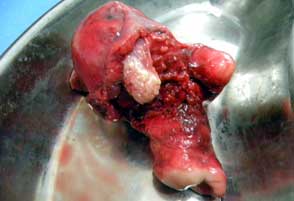 Picture: NDVH.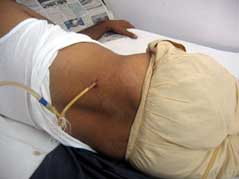 Picture: PCNL.
Facilities are available for those males who are deficient in sperms or have absent sperms. Sperm donation, ovum donation and even embryo donation can be undertaken and the centre is equipped to do so. Infertile couples are properly counseled, investigated and managed.
Laparoscopic Surgery:
Laparoscopic removal of gall bladder, uterus, ovarian cyst, appendix. Lap hernia surgery. Laparoscopic Liver surgery.
General Surgery:
Piles:
"Walk home within 2 hours" treatment, i.e., No Pain No Admission.
Male Sexual Dysfunction and Impotence clinic
Investigations including hormonal profile, penile Doppler studies etc are undertaken and the patient managed accordingly.
Laparoscopic & Open Gynaecological Surgery:
Laparoscopic removal of uterus (Laparoscopic hysterectomy, NDVH, LAVH), ovarian cyst, tubal surgery.
NDVH (Non Descent vaginal Hysterectomy):
In this operation uterus is removed without even a single cut, through the natural hole.Patient is up and about the very next day. Average Hospital stay- less than 24 hours.'. This specimen shows uterus full of tumours along with ovaries & tubes.
Hysteroscopy:
Fertility enhancing Hysteroscopic surgery is undertaken. Hysteroscopic tubal cannulation is done for corneal block patients.
Urology:
TUR Prostrate, Cancer Urinary Bladder, Cancer testes.
PCNL:
Removal of kidney stones through a few mms sized single hole in the flank.
URS (Ureterorenoscopy):
Removal of urinary stones of urinary pipes (ureters), etc.
Cystoscopy:
Cystoscopy is Visual examination of urinary bladder with endoscope. All the urology equipment is German Make-Karl Storz.
Paediatric Surgery:
Paediatric surgeons on the panel of the hospital conduct the surgery.
3 Dimensional Colour scan:
Done with latest state of the art Nemio-17 Toshiba ultrasound colour Doppler
24 Hour Clinical Lab

24 Hour In House Pharmacy

Ambulance Facility Available.
Copyright 2012. Gur Kirpa Test Tube Baby Centre @ SAINI HOSPITAL
Site created & Maintained by SIMAR TECHNOLOGIES